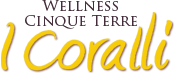 Give yourself some time relaxing in the magical atmosphere of the Cinque Terre. We offer our customers personalized facial and body spa treatments and maximum efficiency depending on the needs that your skin requires.
All our treatments are carried out with the unique and exclusive products of natural origin of herbal Alchimilla store of Monterosso al Mare, which offers products for years and herbal extracts of the highest quality.
Treatments offered in your room:
• Anti-stress massage (method Dr. Leanti La Rosa): aims to alleviate the tension and to induce and rebalance the psychosomatic balance
• Drainage massage: helps eliminate toxins and water retention
• Back massage
• Facial massage: helps to prevent or relax any wrinkles
• Feet reflexology
• Deep skin tissue massage: useful to oxygenate the tissues under the skin
Also performing at the request hair removal, deep facial cleansing.

For further information or reservation on massage please send a request clicking here